If you live in a tough neighborhood then you are familiar with car theft. Those boys hanging out at the corner street are up to good.
You have saved to buy the car of your dreams and what better way to protect your investment than with the best car GPS tracker.
GPS devices are small and can be hidden away from prying eyes. They ensure that you know where your car is at all times. This is done by sending data over cellular networks.
If you own a fleet of trucks, what better way to enhance efficiency than getting The Best Car GPS Tracker in the market.
Disclaimer – This article may contain affiliate links, this means that at no cost to you, we may receive a small commission for qualifying purchases.
The 10 Best Car GPS Trackers of 2020
1. MOTOsafety OBD Car GPS Tracker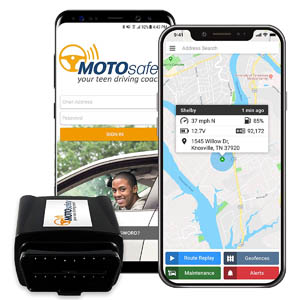 If you have a teenager who has been driving you nuts by constantly demanding for the car keys, then this GPS tracker is your ideal choice. Let's face it – teenagers are not the best drivers. They are always in a rush; which may result in careless driving. The MOTOsafety OBD comes equipped with a full teen driving course that puts the teen's braking skills to test. The new driver can monitor how they perform on various driving points on an easy to use a smartphone app. If you plan to spend the night out, but want to monitor your teen, you can set curfew limits.
That's not all. You can monitor the car's location, speed, direction, and current traffic information. This will come in handy should someone make the mistake of running off with your car. The App can also show you areas with high chances of unsafe driving.
Key Features
Interactive teen driving course that lets you analyze fast braking and acceleration
Can use the GPS tracker for fleet management monitoring speed, location, and geo fencing
Small and lightweight device at an affordable price
Pros
Teen driving course
Offers all information about cars speed and location
Report cards to track your bad habits
Geo-fencing
---
2. Spy Tec STI GL300 Car GPS Tracker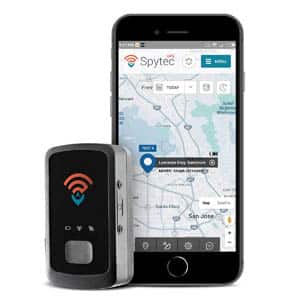 The first thing that stands out with the device is how tiny and easy to use it is. Weighing just 8 ounces and measuring 3 inches, this device goes undetected in your car. But, do not be fooled by the size, the device is loaded with awesome features. Firstly, it has a solid battery that will give you a charge for more than 2 weeks. Next, it lets you sync with Google Maps. Globally, there is no single app that rivals Google Maps. Spy tech GPS tracker even has geofencing features and you can get instant alerts the moment someone leaves a particular area. This works great when you loan your car to teens.
Key Features
Allows synching with Google Maps
Extremely small making it fit is small car places
Geo-fencing allows you to know when someone is moving outside allowed area
Pros
Compatibility with Google Maps
Lightweight and small size
Geo-fencing with real time alerts
---
3. Optimus Real time Car GPS Tracker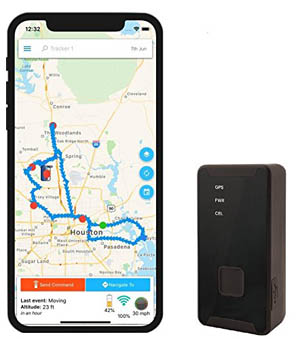 This GPS tracker is very similar in design to other trackers that we have examined. But, the manufacturers have distinguished themselves through an innovative app that is available for both Android and iPhones. The app itself – while loaded with features – is actually really easy to use. You will track your vehicle history and designate areas for your driver. The moment they go beyond these areas you will receive alerts. The App goes even further to inform you when your battery needs recharge.
The downside to this great GPS tracker is that it only works where there is cellular network coverage. The company offers excellent customer service should you experience problems using the app. One needs to be subscribed to unlock more features like access to history trends. You also do not need to worry about device destruction by water elements as the device is waterproof.
Key Features
Long battery lifespan of up to 10 days
Weighs the same with a cigarette lighter
Compatibility with Android and iPhone
Pros
Innovate and informative app
Long battery life
Speeding alerts, battery status and geo-fencing
Compatibility with both iPhone and Android
---
4. Linxup OBD Car GPS Tracker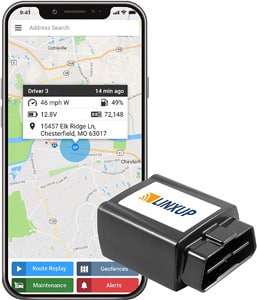 This is another great app if you have a teen who constantly borrows your car. Firstly, it has a dedicated app for tracking bad driving habits. As you know, it takes some time to learn how to drive smoothly. Most teens are known for fast acceleration and hard braking.
No wonder, your fuel tank is always near empty and the brakes need changing. With the Linxup OBD app, you get data on speeding, fast braking, and acceleration. The app comes with monthly subscriptions with a package starting at $22.99.
Something outstanding about the app is that you retain all your data from the app for one year. In addition, you can view your saved data on your desktop or mobile app. You can also have a summary of your data for up to five years but a renewal fee applies for this. The downside to the app, is that it refreshes every one minute; this means the data received is not actually real time.
Key Features
Subscriptions start with a monthly rate of $22.99
App refreshes every one-minute meaning the data is not really real time
By paying a retainer fee you can have your historical data for the last 3 years
Pros
Tracking features like speed, acceleration and geo-fencing
App available for one flat rate
Can view data in either mobile app or desktop
Great app to monitor teen driving
---
5. Vyncs Car GPS Tracker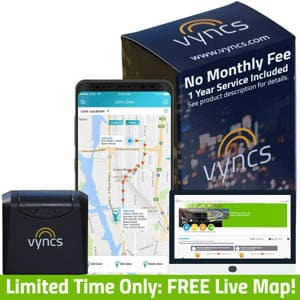 Most of the GPS trackers that we have examined have a battery that needs constant recharging. This device, is super easy to maintain. Firstly, it connects to your OBD-II port. It is small and this keeps it hidden from prying eyes. Once connected, it will send signals over the latest 3-G networks meaning you are in constant communication with your device. While this is great it has the downside of additional cellular data charges and if you choose to go off-road where there is not network coverage, you will end not communicating with your device.
The device lets you pay subscriptions fees depending on how fast you want updates. If it is less than 180 seconds then the $10 activation fee you pay is enough. However, for an annual fee of $129 you get to have updates every 15 seconds. This works well for people who are managing large fleets and need instant access to information.
Key Features
Device connects to the car itself through the OBD-II terminal – eliminates battery charge problems
Uses 3G network to send data meaning can access information through your laptop
No monthly fees, however you pay an activation fee and optional annual fees for real time access to information
Pros
No need to constantly charge battery
Small size means it is undetectable
Little maintenance
---
6. Autobrain OBD Car GPS Tracker
Best Inbuilt Crash Detection Feature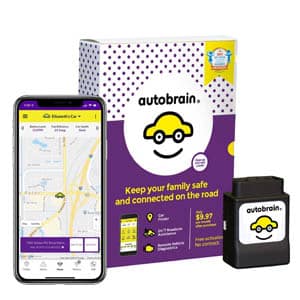 If you are looking for something more personalized for your family then the Autobrain stands out. It makes family safety a priority by offering a 24/7 emergency services. This is billed on your $9.97 monthly subscription fees. In addition, you get and inbuilt crash detection feature.
Besides, the 24/7 emergency services, you get access to all the other awesome features common in GPS trackers like car speed, location, curfew settings, and even vehicle diagnostics. Sending of data is real time and you get updates every 10 seconds. Should you encounter challenges simply, reset the device or unplug and re-plug. Once you decide to go with the device you will receive a free one month free trial. This lets you evaluate how the device responds with your car.
Key Features
24/7 emergency services
Monthly subscription fees at $9.97
Vehicle diagnostics
Pros
Affordable monthly subscription fees
Real time access to information
Free first month trial
---
7. Amcrest AM-GL300 Car GPS Tracker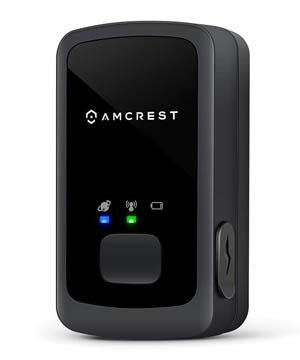 This is a pretty small GPS tracker that has the added advantage of being easy to use. Since it is small, it can fit hidden anywhere in your car. But, before you get ahead of yourself and start tracking your car ensure you have a fully charged battery. The tracker does not rely on external power sources, so you need to discretely get it out of the car and recharge it.
In addition, you have some of the cool features found in most GPS trackers. For example, you can set a geographical area that the car should not go beyond. Once the driver does this you will get an alert. You can also set the tracker to give you alerts whenever certain speed limits are exceeded.
The device itself is affordable but you have to make do with monthly subscriptions – pegged at $19.99 per month. Most GPS trackers have upgraded to 3G networks but the Amcrest is still stuck with 2G. This sucks as the network coverage is being faced out in many areas.
Key Features
The device is small which makes it easy to conceal
Battery last up to 14 days on full charge
Uses 2G network
Affordable GPS tracker with speed and geographic area alerts
Pros
Small size
Speed alerts
Long battery life
---
8. Trak4 Mobile Car GPS Tracker
Water Resistant GPS Tracker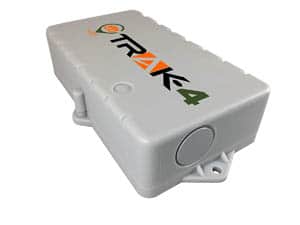 One of the problems many people experience with GPS trackers is that you have to install it inside the car. This keeps the device protected from weather elements. Should you desire to place it outside, then you need to find a suitable case to place. Trak4 eliminates all this. It has a built in case and this makes it water resistant. You can place anywhere in the car's exterior and it will be working fine under extreme weather conditions.
The device comes with a high capacity battery that holds charge for a very long time. You get a status update every 24 hours and this means that on a single charge it can last for almost a year. Finding a signal is simplified as the device uses 3G network with 2G acting as a backup. If you travel to remote areas with poor coverage then you can still locate your car with 2G. Access to status reports can be done online through a laptop. All you need is to login to your dedicated account and you can locate your car. Alerts can then be set for speed of geo-location. Monthly subscriptions are set at $5.99, but you can pay higher depending on the kind of features that you require.
Key Features
Uses 3G network with 2G as backup
High capacity battery
Can be attached on exterior surfaces as it is waterproof
Pros
Small size
All weather tracker
Affordable monthly fees
---
9. TKSTAR 90 Day Car GPS Tracker
Long Battery Life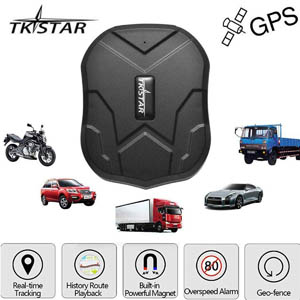 We had to include this tracker on our list due to its incredible battery life. Most GPS trackers have the drawback of constant battery charging. Unless, you purchase one that connects to the OBD II port, you are forced to charge your battery every two weeks. The TKSTAR comes with 5000mAH battery that gives your device enough charge to last up to 90 days.
That's not all. After purchasing the App, you will be required to sync it with Google maps. This lets you get accurate locations of where your car is. You can place the GPS tracker on the exterior of the car, as it is made from a cover that is both water resistant and dust proof.
Key Features
Powerful battery that delivers 5000mAH
Downloadable App
Battery lasts up to 90 days
Pros
Small device
Extended battery life
App syncs with Google Maps
---
10. Logistimatics Mobile 200 Car GPS Tracker
GPS Tracker With Magnetic Studs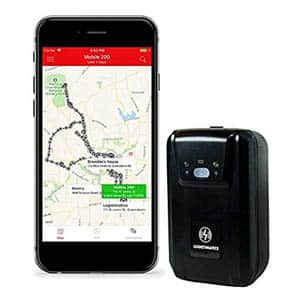 This tracker is pretty similar to all the other GPS trackers that we have examined. You have a small device with magnetic studs that enables it to stick anywhere in the car. The battery is similar to most GPS trackers and lasts you two weeks on a full charge. This can be frustrating because you need to constantly charge it and you may miss out when the car is far away.
You can monitor the movements of your vehicle through your iPhone or Android phone by simply login to their website. Various updates are available including current location and speed of the car. The updates come in every 30 seconds.
All the above features you will find in most of the GPS tracking devices. Where the logistimatics stand out is that it comes with an inbuilt microphone. It can record audio and send it back to you after requesting through a special text. This lets you know where your car is and what the occupants are saying while driving. The audio file can be played on your mobile phone.
Key Features
Ability to record both car's location and audio
30-seconds updates that can be uploaded on firms website
Magnets enable you to place the device anywhere metallic in the car
Pros
Lasts two weeks on full charge
Ability to record audio
Regular 30 second updates
---
What factors to consider when purchasing a GPS Tracker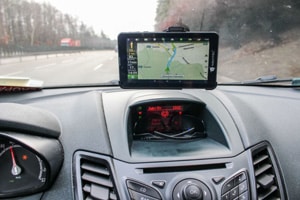 Real-time data
The reason most drivers will get themselves a GPS tracker is so that they have real-time access to data. You need to know where your car is at any moment in time and the speed it is traveling. This comes in handy for logistical support of fleets. It also works well if you have an annoying teen who loves sneaking out with your car at the middle of the night. Most of the GPS tracker providers will provide subscription fees that increase depending on how fast you want your data.
Battery life
The smaller the device the more you charge it. However, small devices are not detectable, making them great for tracking stolen cars. Most devices require a new charge every two weeks. The other option to not charging your battery is to get a device that directly connects to your car's system. This makes low maintenance and you can forget about charge.
Purpose of GPS tracker
Your reasons for getting a GPS tracker will determine the type of device that you purchase. Most people will get a GPS tracker so that they can know the location of their car when stolen. With a GPS tracker you can coordinate with cops on how to recover your stolen car. In this instance, you should identify a small GPS tracker that is hidden from prying eyes.
The next category of people that need GPS trackers is families. If you have a teen who forgets to borrow the car during a night out, you can track their movements and driving habits with an innovative GPS tracker and App. Lastly, fleet owners use GPS trackers for logistical support and efficiency. The fleet owner can know an individual truck location at any time of the day. this enables them to maximize profits by allocating resources where they are needed most.
Device size
It does not make sense if you have a device that is easily noticeable. If thieves can notice the device then they can pull it out and your security precautions are rendered inactive.
Mode of transmitting data
GPS trackers tend are of two types – active and passive. An active GPS tracker constantly transmits data through a cellular network or satellite link. This means you have instant access to data. The downside is that most of the devices have subscription fees, which can be high on a monthly basis. If you want to monitor your teen then go with the active GPS tracker.
Passive trackers are connected to the satellite link but you can only access the information in the device the moment you remove it from the car. This means you do not have access to real-time information. Passive trackers are inexpensive when compared to active ones and most do not come with any subscription fees. All you need is to pluck the device to your laptop and you have access to the device history.
Car GPS Tracker FAQ
Can I purchase a car with a GPS tracker?
Most of the modern cars being released are nowadays coming with Bluetooth GPS tracking systems. This means the system is integrated with your car's internal system. If your car doesn't have one you can still install one and secure your car from theft.
While I be committing a crime if I installed a GPS tracker on another's car?
While it is not legal to install a GPS tracker on your car, you need to observe the various property and privacy rights before you install one on another's car without permission. Various federal and state laws govern this.
Can someone jam my car's GPS tracker?
Most of the GPS trackers send a small, and weak satellite signal which can be jammed if someone has a more powerful device. You will notice that your car GPS signal gets weaker whenever you are traveling in areas with a heavy military presence.
How does a car jammer work?
Car's GPS trackers transmit a satellite signal that enables one to know the location of the device. Jammers will send a radio signal to the device that has the same frequency as the GPS tracker hence interfering with the device able to communicate with the cellular network.
Conclusion
Car theft is stressing for many car owners. You spend your life savings on your dream car only for someone to drive away with it. Installing a GPS tracker ensures that you can track your car in case of theft. A tracker is also a handy tool when you have a large fleet of trucks and you want to cut costs. However, selecting the right GPS tracker is not always that easy.
Firstly, you need something that gives you real time updates of the car's location while at the same time retaining battery charge over a long period. You also need a GPS tracker that is able to transmit data over modern cellular networks. In our search for the best car GPS tracker we identified the TKSTAR 90 Day GPS Tracker as the winner.
The decision wasn't easy as the device is competing with some very good devices in the market. But, what stood out for us was the long battery life at 90 days without charge. The device is waterproof and can, therefore, be fixed on the car's exterior.
Resources:
How to use a car GPS tracker? – Lifewire
Hello I'm Magnus, the owner and the writer of this website. I have been working with cars since I was 16 and I'm specialized with in-depth Automotive diagnostics. Also been driving drifting for the last 6 years. I'm here to give you answers to all your automotive questions and I hope that you enjoy our content.