If you are a cyclist that enjoys making trips to the mountains or beach then you know how challenging it can be to transport your bike without a bike rack.
For one, the bike cannot fit inside your car's trunk or rear seats. With a bike rack, you can safely secure your bike on the car's exterior without obstructing your view.
Bike racks come in all manner of shapes and styles. This makes it burdensome to research various products on the internet.
This buying guide on the best bike racks for cars will save you time and ensure you find the best product in the market.
Disclaimer – This article may contain affiliate links, this means that at no cost to you, we may receive a small commission for qualifying purchases.
The Best Bike Racks for cars in 2022
---
1. Allen Sports Deluxe Bike Rack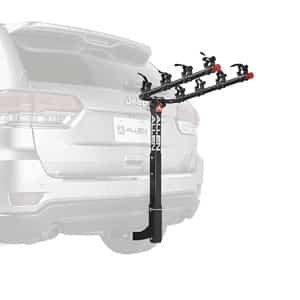 This mountain bike car rack hooks up to your trailer/car hitch and is pretty easy to install. All you need to do is bolt it up and you are ready to drive off. The rack can handle most bikes in the market as the carry arms extend to over 22-inches.
Developed by renowned rack make Dick Allen, it features various patented styles like the anti-wobble ties and the easy tie-down system. This means that your bike is secure no matter the weather conditions and driving speed. The rack is made from steel with a black powder coating. This offers you a durable rack that will last for years.
Features
Comes with various patented features from Allen Sports
No wobble hitch installation
Carry arms can handle bikes of a length of 22-inches
What we liked
Easy to install
Handles bikes of various sizes
The bike is secure even under high speeds
---
2. Tyger Auto TG-RK1B204B Bike Rack
This is another great mountain bike rack for road trips. Firstly, the rack fits comfortably at the back of most SUVs, hatchbacks, and minivans. The manufacturers have taken steps to ensure that your bike sits comfortably on the rack. With a strong steel frame, the lower parts are padded so that your bike does not incur any scratches. You also get a safety strap to secure your bike during bumpy rides.
Bike racks are often exposed to weather elements. In this regard, the Tyger Auto bike rack is covered with an e-coat for protection against rust. The bike rack comes fully assembled and this means you can install it on your car fast. Once done with the rack, simply fold it for storage. You also get a lifetime warranty with each purchase. The only drawback to the Tyger Auto is that it cannot be installed on any car; you need a rear spoiler for this.
Features
Product made from sturdy steel with rust-resistant e-coating
Attaches to the rear spoiler
Safety straps to secure bike while driving
What we liked
Easy installation
Rust free parts
Handles most bikes
---
3. Cyclingdeal 1 Car Rooftop Bike Rack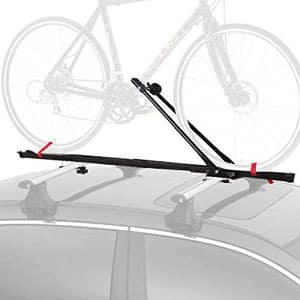 If you are worried about obstruction to your rearview mirror then you need to consider this rooftop bike rack. The cycling deal 1 is affordable but this does mean it lacks functionality. Firstly, the rooftop rack is made of steel. That means you have a durable bike rack that will last for ages. Secondly, the frame is coated with powder-coated steel. As you know, rooftop racks are susceptible to weather elements, which can lead to corrosion. But, steel has the downside of making the car rack heavy. It also affects the aerodynamics of the car.
Additional straps help you secure your bike to the car. This prevents your bike from rolling off the roof when you are making emergency brakes. The bike rack has a width of 4.3 inches and a thickness of 1.6 inches. This makes it suitable for most car models. You can strap a variety of bikes, from mountain bikes to the kids' bikes but it can be a bit challenging securing the straps to the wheels.
Features
Made from durable steel
Rack mounted on the top of the car
Usage extends to various car types and bike models
Straps go under the wheels which secures the bike
What we liked
Corrosion-free steel coating
Lockable bike carrier for added safety
Can be used on various car models
---
4. Saris Bones 2-Bike Trunk Bike Rack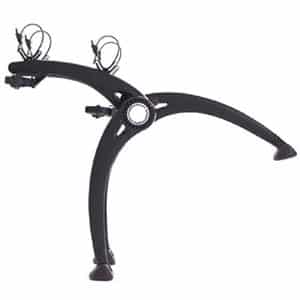 The Saris Bones car rack is made from innovative technologies and this gives it a cool design. When it comes to aerodynamics, you need to keep your car weight down. This 2-Bike trunk rack is made from plastic and this keeps its weight under 10 pounds. However, this does not mean that the rack is weak in any way. The rack is infused with a molded construction material and this makes the rack strong.
The rack is large enough to accommodate two bikes – comes in handy when you are traveling as a couple. The manufacturers have done a good job of giving us a sturdy rack, made from high-quality materials while keeping the price within the range of most buyers.
Features
Made from plastic with molded injection
Rustproof
Materials are 100% recycled
What we liked
Lightweight
Carries two bikes
Long-lasting frame
---
5. Hollywood Racks Express Trunk Bike Rack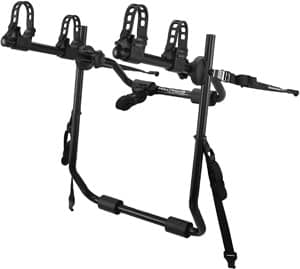 This is a high capacity car bike rack that can handle two to three bikes depending on the version that you purchase. Weighing 70 lbs., the car rack is hooked to the car through adjustable hubs. Installation time is reduced as the bike rack comes preassembled. You also do not have to worry about your bike wobbling while driving as the car rack comes equipped with six straps. The frame is also laden with soft cradles that protect your bike frame from dents and scratches.
The bike racks can handle up to three bikes and this increases the length of the car. The spacing between each bike rack is around 7 inches and this reduces the chances of the bikes destroying each other. Once done with the rack, you can easily fold it for the next usage. The nylon straps are long enough to secure your bike to the rack.
Features
Capacity to hold up to 3 bikes
Long nylon straps
You can adjust the rack as you please
Foldable rack for easy storage
What we liked
Easy to adjust
Fits most cars
Soft cradles to protect bike frame
---
6. Prorack Frame Bike Rack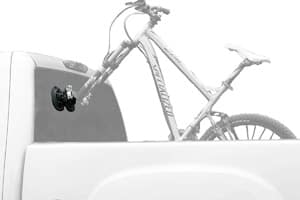 Suction cups are a new innovation when it comes to bike racks. They are relatively easy to install and dismount. This particular model is made for pickups. It comes with six-inch-long suction cups with locking jaws above. The cups are attached to the rear window of the pickup and the bike will rest on the body of the pickup. This means you do not need any straps as the locking jaws connect the bike to the car.
You may be wondering, "can they really hold on to the weight of the bike" The suction cups are designed to hold up to 200 lbs. which means you can use them for a variety of bikes. The fork clamp secures the bike to the rear window and this prevents it from wobbling around. This bike rack is easy to install but comes with the drawback that you can only use it for pickups. You are also limited to rear window mounting as opposed to rooftop mounting. This can obstruct your rearview mirror.
Features
Vacuum bike mounts suitable for pickups
Attaches to the rearview window only
Eliminates the need for clamps
What we liked
Easy to install
Accommodates a variety of bikes
Fork clamp handles large bike weights
---
7. SportRack SR4883 Upshift Bike Rack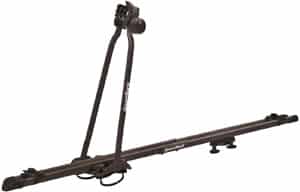 This is a lightweight rooftop bike carrier that lets you mount your bike in an upright position. Weighing in at 9.5 lbs. you do not need to worry about removing any of your wheels to secure your bike. Each of the racks accommodates one bike and this gives you the flexibility to use the carrier for many bikes. The wheel tray is very stable and this helps when you are navigating rough roads.
The beauty about the SportRack SR4883 is that it fits on almost any roof rack system. This means you can use it in a variety of cars. With an adjustable arm, you can adjust it to carry a variety of bikes. An additional locking system ensures that your bike is safe when traveling.
Installation of the bike rack is tool-free and you are able to set up within a short time. The only downside to the roof rack is that it is not padded. This means you may find occasional scratches on your bike.
Features
Mounts bike in an upright position on the car roof
Each rack handles a bike
Locking system for added security
What we liked
Lightweight
Easy to install
Adjustable arms support a variety of bike sizes
---
8. Swagman Upright Roof Bike Rack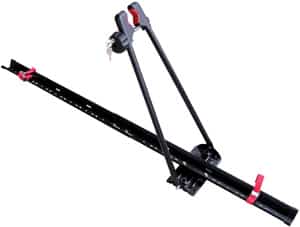 Swagman has built a reputation for producing high-quality racks at affordable prices. This rack handles one bike but you can add more racks for several bikes. The rack design is a bit different from what we have in the market in that it is made from a combination of steel and plastic combo. This has the added advantage of being lightweight while at the same time corrosion-free. Once you have mounted the bike, you will use the straps to secure the bike to the car' wheels. However, you do not need to remove the car wheels to do this.
You can use the bike rack on a variety of crossbars – oval, round, or square. In addition, the rack can handle bikes with a weight of 35 lbs. and above. Your bike is very secure once you strap it and you do not need to worry about it wobbling about during rough rides. The bike rack does not come preassembled and therefore you need to have all the brackets in place during installation. Lastly, you no longer need to worry about theft when you pack your bike at the grocery stores as it comes with a locking mechanism.
Features
Made from a combination of steel and plastic combo
Handles bikes weight of up to 35 lbs.
Comes with straps that are tied to the wheel
What we liked
Locking mechanism
No need to remove wheels when strapping
Sleek design
---
9. Thule T2 Pro XT2 Car Bike Rack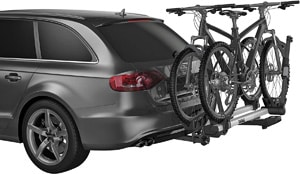 The brand name has had a solid reputation producing bike accessories. This model looks amazing but the price tag can be quite intimidating for many people. But, let's assure you that it offers good value for money. The design itself is superb and you can attach this great bike rack on your 1.25 or 2-inch tow hitch. You can pull the hinged joints outwards to accommodate more bikes or fold it when it's empty.
The trunk-mounted bike rack is easy to set up and dismount. Your bikes rest a foot above the ground and are supported by a set of ratchet arms. This ensures that your bike does not wobble about when driving. In case you are worried about your bike getting stolen while you go to the grocery store, there is a locking cable to secure your bike from theft. This is a long-lasting investment that offers good value for money.
Features
Built-in lock system
Tool-free attachment
Rack tilts for easy access
Foldable when not in use
What we liked
Offers good value for money
Easy to load
Supports multiple bikes
---
How to select the right bike rack for your car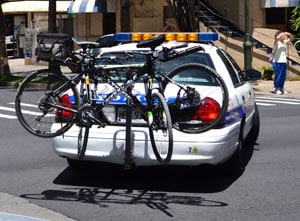 Selecting the right car bike rack is not easy because the rack has to fit with your car model. Most of the rack manufacturers will provide a list of types of cars that are compatible with your car. Racks can be mounted on the trunk or roof of the car and this necessitates a product that can withstand varying weather elements. If this is your first time purchasing bike racks, this buying guide will provide vital insights to help in your purchase.
Types of Bike racks for cars
Not all bike racks are the same. Your car design will determine the type of rack that you go for. Check for mounting accessories before you decide on a certain type.
Roof Racks: These bike racks are fitted on the car's roof and are ideal for most car types that have crossbars. Once the bike is mounted – in an upright position – you can then use straps to secure it in place. The benefit of this type of bike rack is that there is no hindrance when accessing your trunk. But, the downside is that the bike increases the car's height which will affect its aerodynamics. In addition, the increased height may cause you problems when accessing certain roads.
Trunk Racks: In this instance, you mount the bike on the car's trunk. The racks are easy to assemble and dismantle. The drawback to trunk racks is that they hinder the driver's rearview. In addition, they make it problematic to open the car's trunk. The racks are available in various sizes and types. They are also lightweight and affordable.
Hitch Racks: if you are planning on carrying, several bikes then look for racks that attach to a hitch. While the racks are easy to install they also tend to be expensive and unnecessary for one bike.
Vacuum Racks: These are recent additions to the market. They attach to the car windows through suction cups. While the vacuum racks are straightforward to install, they tend to be lightweight and perform poorly when it comes to durability.
Locking Mechanisms
It is imperative that your bike is secured in place to avoid it wobbling during rough rides. In this regards, you need to keep an eye on the following accessories:
Locking cables: During stopovers, there is a probability that someone can come and steal your bike from the parking lot. Locking cables secure your bike to the car. Most premium racks have this feature. Alternatively, you can purchase locking cables separately.
Padded securing points: Most of the racks in the market are made of steel. This has the advantage of durability but it can cause scratches to your bike. To mitigate this most of the securing points come with padded securing points. With the feature, you are assured of the protection of the bike's paintwork.
Anti-sway points: Your bike has a tendency to sway unnecessarily while driving. An anti-sway cage is often attached on the top tube but you will also find this feature on the wheels. The anti-sway cage will also prevent your bikes from bumping into each other while driving.
Durability
The car bike rack is under lots of pressure as you drive. In this regard, you need something that is sturdy enough to hold your bike without breaking. The rack also needs to be made from rust-resistant materials as it is constantly exposed to water elements. Most of the racks in the market are made from steel. Steel has the benefit of being sturdy but it is susceptible to rust. Rust coating is an inexpensive way to protect the rack frame.
Cost
All in all, you need to consider a rack that is within your budget. Racks will vary in prices depending on materials used and accessories. Find a bike rack that will last you many years even though you may be forced to pay extra. Do your research well as expensive products do not necessarily offer value? It is also imperative that you check whether the manufacturer offers the bike with a warranty. A warranty lets you return the rack in case of defects. Most of the car-bike racks come with lifetime warranties. You should read the fine print to know what is covered.
Bike Rack FAQ
Where should I put my car bike rack?
It will depend on the type of rack. If you plan on using your rack for storage then the rooftop rack will come in handy. But, it has the disadvantage of affecting the car's aerodynamics by increasing its height. Mounting your bike rack on the trunk is great but it can obstruct your rearview.
How many bikes can I transport on a bike rack?
The rooftop racks are often designed to carry just one bike but with additional bike racks, you can do more. You can stack up to four bikes with the trunk racks. It is imperative that you select a bike rack that will accommodate multiple bikes if you plan to hike as a couple.
Do I need a number plate for my Car bike rack?
You should not display a number plate on the bike rack. It should also not interfere with the visibility of the rear number plate. Your bike rack uses the same registration as the car.
How do I use the Hitch bike rack?
The hitch bike rack utilizes the same receiver you use for your trailer hitch. You can use such type of racks when you are transporting many bikes. The hitch rack allows you to easily load and unload the bikes. There is no limitation to the weight of the bikes.
What is the average price for bike racks?
It will depend on the brand and where you want to place the bike rack. Expect to spend between $50 to $300. While getting the perfect bike rack to ensure that it comes with safety straps to secure your bike while driving.
Conclusion
You will know that you need a bike rack when you plan on doing a road trip and there is a mountainside to be conquered. The bike rack helps you explore your hobby of bike hiking. If you plan on doing this as a family, then you need a good bike rack that can accommodate multiple bikes. Your car type will determine whether you settle for a rooftop rack or a trunk rack. Both, have their own set of pros and cons. We have examined car-bike racks from multiple top brands across the market and we have come up with a clear winner – the Allen Sports Deluxe Hitch Car rack. We loved this trunk rack because it is easy to install and it comes from a company that has a reputation for producing quality bike accessories. The Allen Sports car-bike rack secures your bike to the rack in such a way that the bike does not wobble even at high speeds. It offers good value for money.
Resource
How to install a bike rack on your car – WikiHow
Was this article helpful?