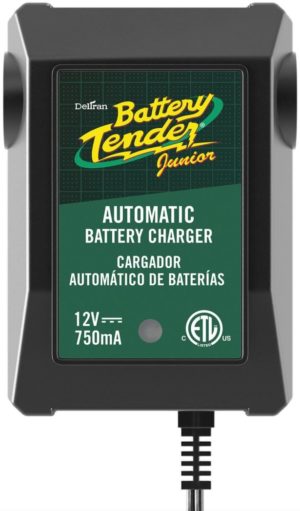 What's more annoying than coming out to your car or motorcycle when you are in hurry, to realise that the starter is clicking and the car battery is dead?
I can probably guess your answer. Thankfully this problem can often be counteracted by maintenance charging the battery on your car or motorcycle with regular intervals.
This is actually one of the biggest mistakes car owners do, to just drive short distances and never maintenance charging the car battery. But however, to maintain your car battery you need a great car battery charger, specialized in battery maintenance charging. This will let you charge the battery for long times without damaging it.
That's why we decided to make a review of this popular maintenance charger "Battery Tender Jr" with the article number (021-0123). Let's head over to the review.
Battery Tender Jr Product Table
Our Battery Tender Jr Review
The first thing we could say about the Battery Tender Jr is that it's a really popular car battery charger with thousands of positive reviews. When you are checking the price, you are really surprised that a charger for this kind of money can have so many great reviews from recent customers, but this is probably the cause why this car battery charger became so popular. Small, Cheap and good quality. Let's go over to some of the functions of this charger.
We created a list of the common function of this battery tender junior charger. Here is a list of them and we will discuss the functions more in-depth down below.
Main Features
12 volts
750mA charging power
Works with both WET and GEL batteries
Overcharging protection
Active charging monitoring
Spark proof protection
Two color LED charging indicator
4-step charging program
Max 80 hours safety charging protection
Alligator clamps and O-ring connectors
The first thing that's probably worth looking into, is the voltage of the charger. This is important that you check on your vehicle that you are going to charge. The Battery tender junior 021-0123 is for 12 volts systems. If you charge a 6-volt vehicle with a 12-volt charger, you can damage a lot of electrical parts. This car battery charger can charge both WET and GEL batteries, which is great because the GEL batteries are becoming more and more popular in newer vehicles.
This charger gives a charging power of 750mA, which is not a lot but it's great for maintenance charging smaller car and motorcycle batteries for long periods. If you are looking for a charger that is going to charge your car faster, check our article Best Car Battery Charger for better alternatives. The charging mA is a great metric to look for, the higher mA/A the faster the car battery will charge.
The Battery Tender Junior comes with an active charging monitoring, which means that the only thing you have to do is to wire up the wires and the charger will choose the best possible charging for your car battery and you just have to let it do the job. There is a limit of 80 hours charging tho, which is a great function to have because charging a fully charged battery for too long can cause damages to it.
Battery Tender Jr have the most safety functions that you need to have for a great car battery charger, one of them is the wrong-polarity protection which is great if you connect the positive wire to the negative terminal on your vehicle. If you do not have this function, you can damage a lot of parts or even the charger. Another great function is the overvoltage protection and the maximum time of charging protection, which will save and extend your car batteries lifetime a lot.
Here are some of the Pro's and Con's we found from this product.
Pros
Lightweight and small
Fully automatic maintenance charging
Easy to use
Great Warranty (5 years)
Spark proof protected
4-step charging program (best for all situations)
Affordable price
Comes with both alligator clips and O-ring connectors
Overcharging protection
Optional 25 ft extension cord

Cons
Feels pretty cheap/very plastic when you are holding it.
Not that powerful for larger car batteries
Not the best quality, a lot of reports of broken ones. But great for the price
As you may see, there are some cons about this product like that it feels a bit cheap and the power could be higher. But hey, what can you expect from a car battery charger for this price? If you are looking for a more powerful and one of higher quality, you have to open up your wallet a bit more.
However, this charger does the job – Maintenance charging smaller car batteries and motorcycle batteries. There are some reports from a recent customer about broken chargers when they received it, but this wasn't our case when we received it. It works like charm for the tests we did. Absolutely a recommended charger!
If you want to look deeper into customer reviews and other functions from the manufacturer, you can check it out down below on Amazon by clicking on the button down below.
Summary
So after all these words, what do we want to say about this charger and would we recommend it to our customers?
Yes, we can recommend it if you know the purpose of the charger. If you are looking for a car battery charger that will last for years and charge your car battery to full charge within an hour, do not choose this one. If you want to have a maintenance charger to charge your vehicle when you are not using it for long periods and do not want to spend a lot of money, yes you can choose this one and you will most likely be satisfied, just remember that you get what you pay for.
If you have any other questions about the battery tender Jr or want to leave your own review about it, you can comment down below and I will answer your questions as soon as possible. Thanks, I hoped you enjoyed this review.