Car collisions are inevitable. You could be a cautious driver, only to have someone carelessly swerve at you and bump into your car.
If your car is insured, the insurance company will pay for the repairs. However, you should not only accept the body repair shop recommended by the company. Some may look promising, then do a sloppy job with the repairs.
In this article, we give you important tips on choosing the right body repair shop.
How to choose the best auto body shop
1. Research the service provider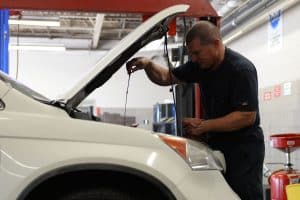 Many mistakes can be avoided if you take the time to research your company. Take a look at the track record of the company that carries out repairs. Ask questions like: How long have they been around? Do they have a solid track record and do they have references? Poor bodywork leaves bulging parts on your car that make it look ugly.
You can ask your family and friends for their opinion on the best supplier. When choosing the service provider, ask questions of those present. This will give you an indication of how they will perform the repairs.
RELATED: 5 Best Headlight Restoration Kits
2. Compare prices
The fact that your insurance pays for repairs does not mean that you should not check the prices. Ask for an estimate. These are easily accessible on the website for body shops. You must also ask about the time needed to carry out the repairs. It's frustrating to take your car to a body shop just to have it stay there for weeks.
You may also want to find out what kind of equipment the garage uses. Some have sophisticated machines that do a perfect job while reducing the waiting time.
3. Find one near you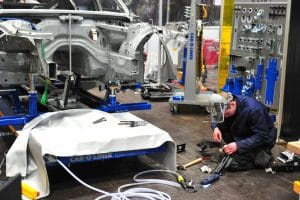 You want to find a car repair shop near you. This gives you time to visit the workshop during the repair and to follow the progress of the work. Most bodywork shops want to retain their customers and therefore offer good customer care services, such as picking up and returning the car after the repair.
Locals with whom you are familiar will most likely run a local auto repair shop. Look for car body shops that are OEM certified.
RELATED: Repaint vs Wrap a Car – Information
4. Hourly rates
Some of the garages will charge an hourly rate for repairs. The rate is determined by the company's overhead costs. If it employs many people and is located in a place where rent is expensive, you may have to expect to pay more. For this reason, it is advisable to find a workshop that is close to your neighborhood.
5. Ask your mechanic
Your mechanic is constantly dealing with body repair shops. They will know some of the technicians in the workshops personally. Your mechanic can recommend certain workshops for you to visit. But be sure to take the necessary care and not simply believe them. You may also want to find out if the body shop offers a warranty for repairs.
6. Technicians' qualifications
Car body workshops employ a large number of people. They want a place where people know about their work. If you find a workshop with employees who have been in the business for many years, they probably know what they are doing. You should also make sure that the employees are polite and professional. A place where the employees do not take care of your concerns should be abandoned.
You can enquire about prices and timings at the car repair shop. If they take a long time to answer, it is advisable to look elsewhere. Most body shops display their certificates on their walls. This is a positive sign that they have a license. The licenses also show the date when the body shop started operations and whether they have won service prizes.
Most reputable garages will also display this on their website.
7. Follow your gut feeling
If you have done your research but still feel that the repair shop is not right for you, leave. A gut feeling can be activated by anything you see in the repair shop. It could be that you have found a customer complaining about a delay and management hasn't taken the time to solve the problem.
You should also monitor the repair shop for activity. If you find that the repair shop is dealing with just a few customers, then it probably does not have a good track record. Most good body shops are often very active. The cheapest workshop is not always the best.
Most body work equipment costs a lot, and body repair shops invest thousands of dollars in purchasing the latest equipment. That means they will charge you a premium. Before you decide on a garage, get an estimate and compare based on the quality of service and work. You also need to find out what kind of materials are used for repairs. A normal paint job can cost you between $500 and $2,000, depending on the type of paint used.
Conclusion
Nobody loves having a car with dents on it. The car looks bad to onlookers, and it makes it hard to get a fair price if you decide to sell it. But when you are behind the wheel, accidents are inevitable. When this happens, you need to find the right body shop.
Don't just choose the service company that your insurance company recommends. Instead, carry out a background check of the company. Search online for estimates for bodywork repairs. It's a good idea to ask your family and friends for recommendations. If a garage is good, you will find that it has many positive reviews and testimonials.
Bodywork repairs should not take long, and it is ideal to find a car repair shop near you. This makes it easier for you to bring your car to the garage and even have it delivered to your home. If you feel that you should not choose a particular garage, follow your instincts.
Look for garages that offer excellent customer service with professional technicians. If you can find a garage with modern repair equipment, all the better.