When you're planning a vacation in your family RV, it's always a good idea to bring along a car to use as a daily runaround once you've set up camp somewhere. If you've parked up your RV for the evening, are charging up batteries or refilling water tanks, then it's a pain if you still have to run into town to get dinner or visit a grocery store. That's where your additional car comes in.
But does someone have to drive that car? Doesn't that make a lot of extra work and cost a lot of additional gas money? It doesn't have to be that way, not if you flat-tow the car behind your RV. The question nowadays, however, is which models are the easiest to flat-tow? There are difficulties and restrictions on certain models because of their transmission and drivetrain. In today's blog, we'll share a collection of models that are ideal for flat-towing behind your RV.
If you don't have one of these, you could always rent one for the length of your trip, but just ensure that the rental company knows you plan to tow it. On the other hand, if RV vacations are your annual family tradition, then it could be worth just buying one of the cars below to have as your vacation towing car.
Here is our list of the best cars to tow behind an RV:
1. Jeep Wrangler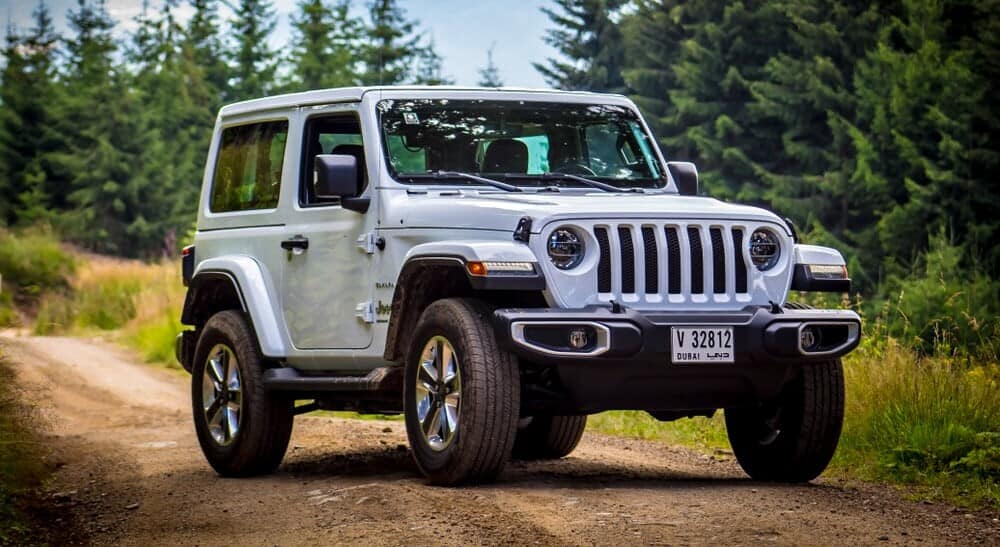 When you look at almost any recommendation for the ideal car to flat-tow behind an RV, you'll find a Jeep Wrangler in the list. It's not just that the lighter, smaller frame of this SUV makes it an easier pull, but it's the fact that the Wrangler complements an RV road trip so perfectly in every way.
Some vehicles that you flat tow you might just use for a daily runaround, but the Jeep Wrangler offers much more. It's also a perfect off-road vehicle to experience the landscapes you're traveling in a much closer and more personal encounter. Park up the RV at your campsite in the desert and then take the Wrangler for a ride across the sand dunes; or take it for a crawl across some nearby rocks, whatever you've got the Jeep ready for.
The best news for flat towers is that the Wrangler has no speed, distance or other restrictions when being flat-towed. What's more, you can safely tow both manual and automatic models, so there's no need to go into special requirements for your Wrangler. Just connect it up securely and get on your way!
2. Ford F-150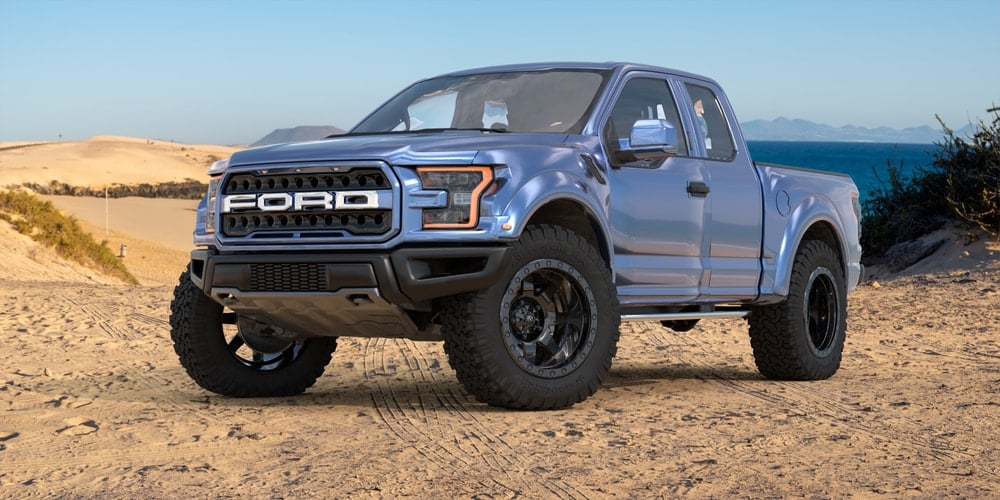 A pickup truck like the popular Ford F-150 model might not have been your first thought when you were thinking of vehicles that were "easy" to flat-tow. The fact is, however, that the F-150 is really an ideal choice for flat-towing. The best thing about an F-150 is that it comes with its own flatbed that you can load up with other gear for the vacation — kayaks, bikes, camping gear and more.
Not just any F-150 can be flat-towed, however. It's not as open an option as the Jeep Wrangler. You can only flat-tow 4WD Ford F-150 models. If you have an older F-150, especially made prior to the 2012 model year, then you'll need a manual-shift transfer case to flat-tow. As for distance or speed limitations, however, there are none.
3. Ford Bronco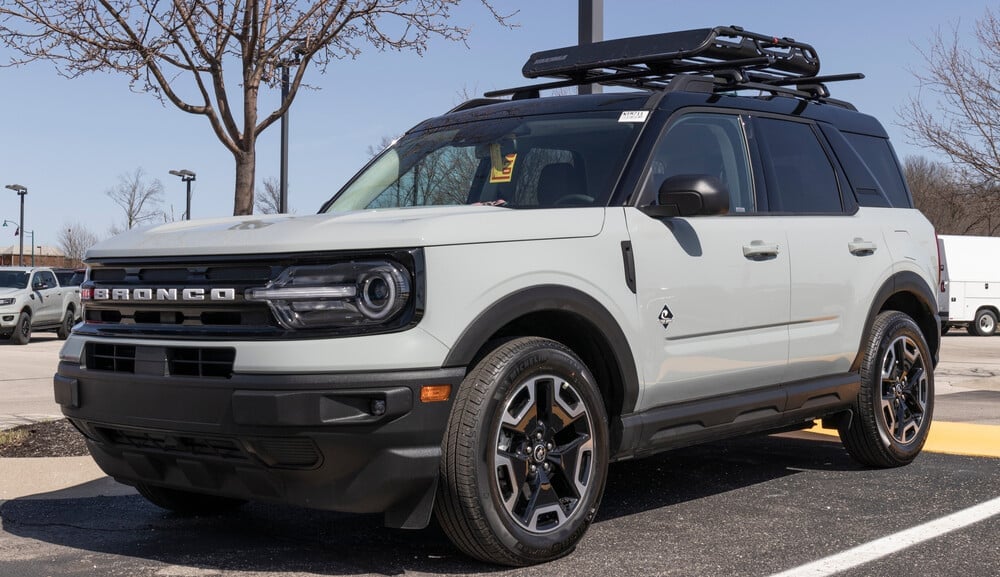 We're not talking about the old 1960s and 1970s Ford Bronco here, but rather the relaunched Bronco for 2021. There was a quarter-century gap between this one and the last one that rolled off the production line, and the excellent news is that the 2021 Ford Bronco was made to be flat-towed.
Similar to the Jeep Wrangler, the Ford Bronco is a super off-road adventure vehicle and can add a whole new dimension to your trip. There are no notable restrictions on flat-towing the Bronco, but you are reminded by Ford to follow the specific procedure outlined in the owner's manual. It should also be noted, however, that the 2021 Ford Bronco Sport cannot be flat-towed.
4. Ford Focus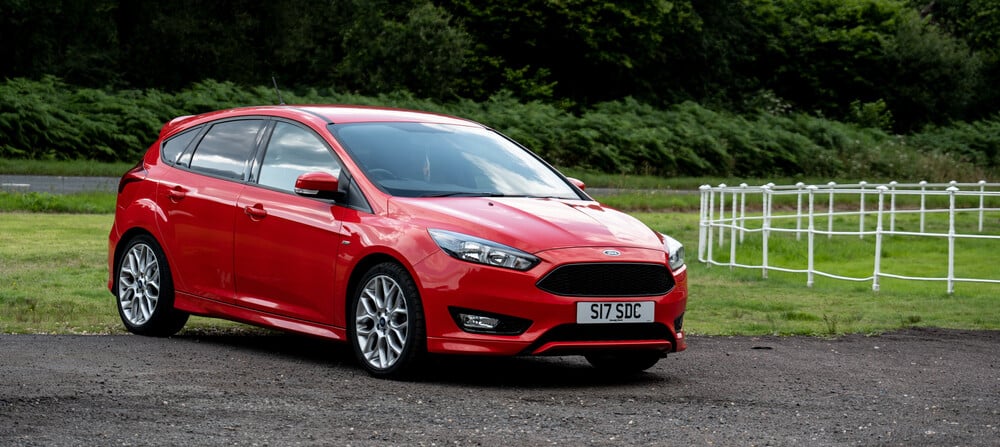 The Ford Focus provides a more compact option for flat towing than many of the others above. Not everyone needs to bring a car to take off-road or to act as a secondary cargo vehicle. When all you need is a car for daily driving, trips into town, day trips away from your campsite and whatnot, then something like a Ford Focus is perfect. The best model years for flat-towing are the 2016-2018 Ford Focus models.
The following Ford Focus models should never be flat-towed: Focus Electric, Focus ST, Focus RS, 1.0L EcoBoost, and the I5 2.0L Automatic. When towing your 2016-2018 Ford Focus, you shouldn't exceed speeds of 70mph.
5. Ram 1500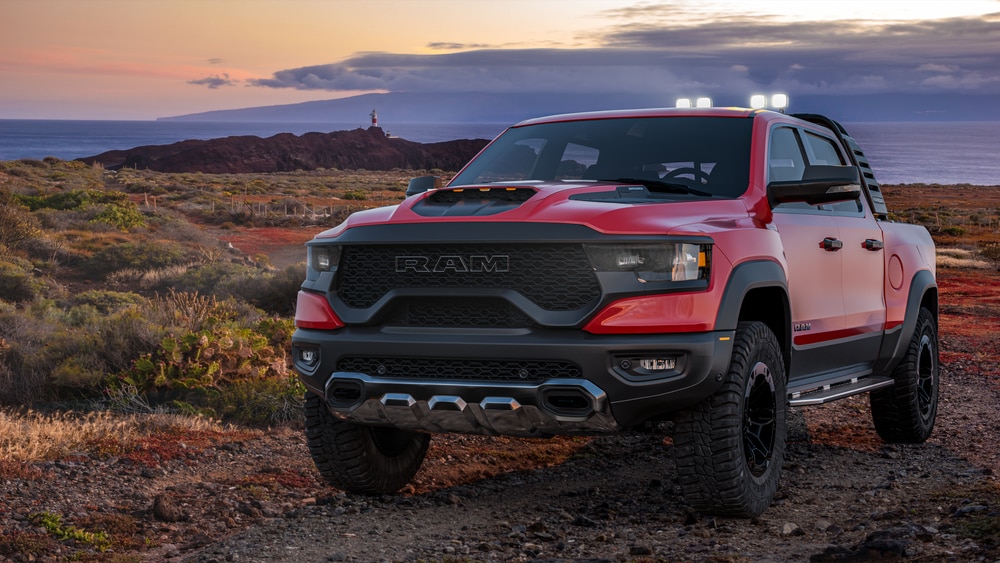 Just as the F-150 makes a great addition to the vacation, the Ram 1500 is also an easy truck to flat-tow. Only 4WD models can be towed, but there are now speed or distance restrictions to worry about, so as long as you have a 4WD model, you're ready to go.
One of the best things about towing the Ram 1500 is that the Ram comes with very special rear coil springs installed which when you drive it make it a comfortable ride, but also help to make towing easier and more comfortable. You'd hardly know you had a massive pickup truck attached to the back of your RV. On top of all that, you also get that same level of utility that we mentioned above for the F-150 with the added storage capacity and ability to load up the bikes, surfboards and more.
6. Smart Fortwo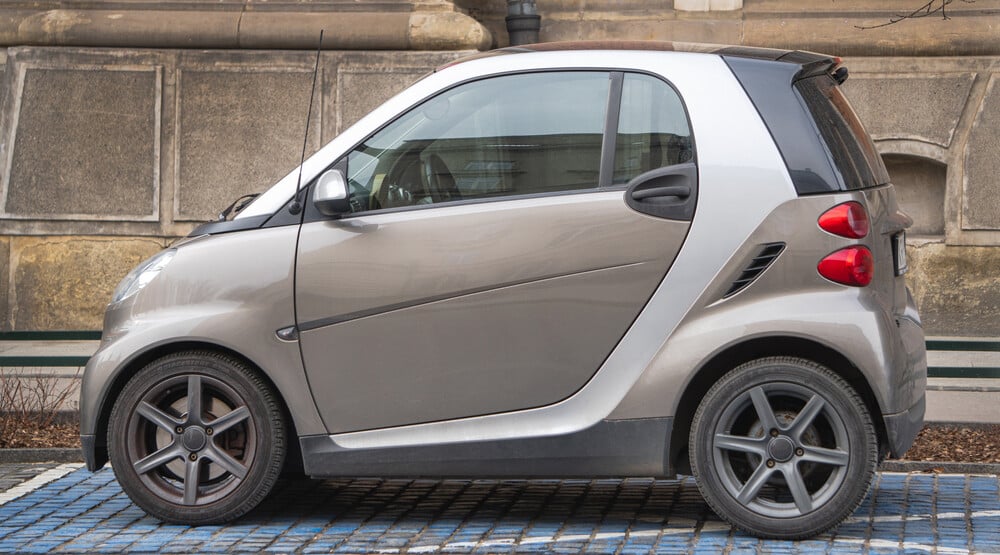 Not every RV vacation is a big family affair. If it's just you, or you and your spouse or significant other taking a fantastic road trip, then a Smart Fortwo in tow is just the ticket. The 2009-2015 models are perfect for towing, but not the Electric Drive models. Any standard unit from those model years is ideal for flat-towing, because they're just 9 feet in length, about 1,800lbs in weight and the perfect way to get around nearby towns and cities from where you set up camp.
7. Chevrolet Spark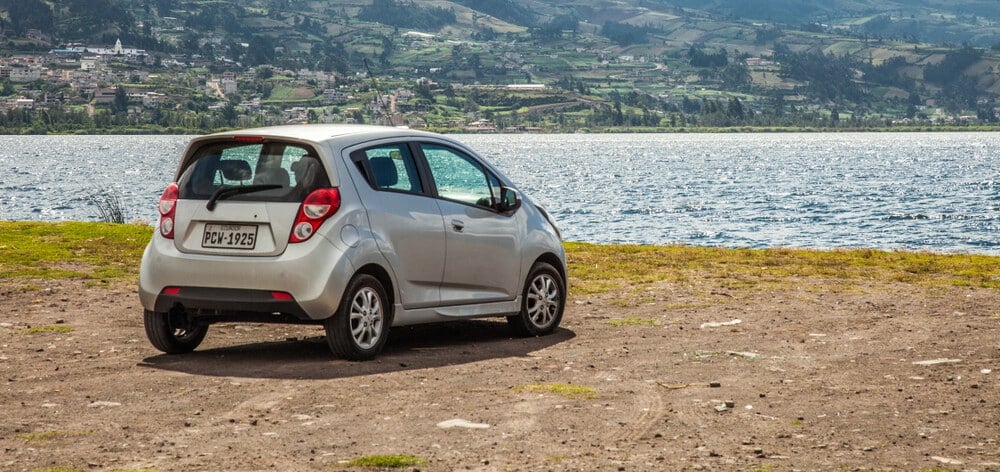 If it's a compact option you need, but with a bit more space, and that's more affordable, even than the Smart Fortwo, then the Chevrolet Spark (2013-2021 model years) should work out great. You can tow any manual transmission model. If you have an earlier 2013 model, don't tow it at speeds greater than 55mph. If it's from 2014 or later, you can tow it up to 70mph.
The Spark itself is an efficient and handy ally to have on your trip. It'll get up to 38mpg in the newer models, and still has enough space for the family and some trunk space for day trips.
8. Jeep Grand Cherokee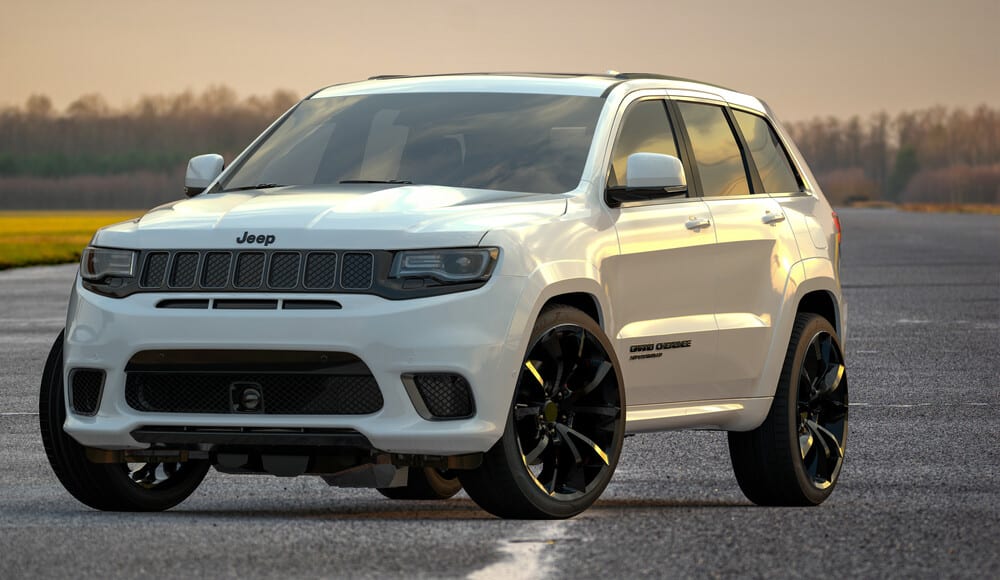 Another good choice for a larger SUV is the Jeep Grand Cherokee. It's one of America's favorite SUV cars so there are plenty of them about, and any 4WD unit with Quadra-Trac II or Quadra-Drive II can be flat-towed. These are the only limitations, as there are no speed or distance restrictions to worry about.
Use the 2011 to 2021 model years for flat towing, and in fact the Grand Cherokee is the second-most popular SUV model to flat-tow after the Wrangler. It's a great comfortable family car to take as your day trip car, as well as something that looks the part when you're driving into town for a nice night out away from the campsite.
Conclusion: Other Important Things to Remember for Flat Towing
When you flat-tow another vehicle behind your RV, it's important that it has the following features:
Transmission disconnect option
Steering wheel lockout override
These are the two critical elements needed for safe flat towing. Regardless of how confident you are that your vehicle is suitable for flat towing, always first check the owner's manual to be sure that it is included within there. If it does not explicitly state that it's okay (or not) to flat-tow your vehicle, then you shouldn't attempt it.
In addition, ensure that you have the proper towing equipment to do your flat towing. You should invest in durable, reliable and high-quality gear. A broken or faulty tow hitch when you're traveling at speed could turn into one of the most dangerous situations you've ever seen on the road, no matter if you're towing an F-150 truck or a compact Smart Fortwo. Always invest in quality towing gear.