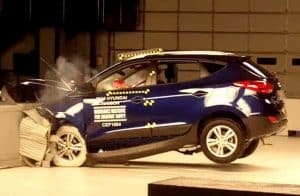 The car safety ratings are critical when you are purchasing a new car.
But, this does not mean the car cannot get involved in an accident. Most of the accidents are caused by driver error. Drunk driving is a key contributor to road accidents as well as fatigue. The NHTSA is the public body responsible for ensuring that cars manufactured are safe for driving by the public.
Other private bodies check car safety that you need to be familiar with.
NHTSA
This public body that was created to reduce the number of road accidents on our roads due to the car unworthiness. The body assigns a car rating of between one and five. Once you have identified a car model you want to purchase head to the body's website and search a car based on year, model or make. The website will display information on investigations if any, complaints and if the car has been recalled. You can get more details on the crash test details.
Click to search your car model on NHTSA
When purchasing a car you need to know that it is the safest. In this regards, you want a car that has the 5 star rating awarded by the National Highway Traffic Safety Administration. The body checks the safety of new cars before they are released to the public.
A new car will be brought in and it will be subjected to a variety of tests that includes: front and side collision, braking assists, lane departure warning amongst others. The car is measured on a scale of one to five. There are many car models in the market and the NHTSA does not have the time to test all of them. In this regards, they will test the most popular models.
The NHTSA website has a cool comparison feature that you can use to compare the test ratings between two car models. This comes in handy when you are torn in between two car models. The feature lets you select up to three car models which you can compare based on star ratings, recall information and test information. Currently, the NHTSA website allows you to compare car models from the year 2011 to present. You can also compare cars against each other made between 1990 to 2010.
Car recall database
For any new cars you will be informed through the mail of any recalls. However, if you have just purchased a new model you can miss out on the mail. The NHTSA uploads on its website all car models that have been recalled. All you need to do is key in the car's VIN on their website and you will find all the information you need.
IHHS
This private organization also carries out car safety checks. The ratings by the IHHS are rated based as acceptable, good, marginal and poor. Just like the IIHS the IHHS will give ratings for the headlights, roof structure, and child seat anchors. To get this information go to the organization website and key in the car model, make and type. You can use their search engines to locate a particular type of car if you are unsure.
Their rating results will be displayed as either Top Safety Picks or Top Safety Picks+. Ensure that the car you are purchasing has a + sign always. Since there are many models to be tested the site offers periodic updates on new models that they have tested. If you do not find your car model do not worry just check for updates. It is advised to do this twice or thrice per month.
IIHS
The Insurance Institute for Highway Safety also carries tests on cars. The body is non-profit and consists of various insurance car associations. The tests for the IIHS include those done by the NHTSA plus crash mitigation technologies, passenger overlap front, crash avoidance tests among others. Instead of the NHTSA five star rating the body will recommend a car as being Top safety pick.
International Assessment programs
This is international bodies that do their best to test new car models. One of the most popular assessment body is the European new car assessment (Euro NCAP). Just like the NHTSA the cars are rated on a scale of one to five. Euro NCAP has done over 1800 car model tests since 2017. The site offers two car ratings and the results often differ.
Latin Car assessment program (Latin NCAP)
This is an international assessment program that was started in 2010. It gives ratings of between 0 and 5. One unique factor about the organization is that it assesses car models before 2010.
Japan new car assessment program (JNCAP)
Japan produces new cars each year. The JNCAP was started as an extension of the Japan National Safety and First Aid program. The cars are tested on various metrics and awarded a star rating of between 0 and 5. To check rating login to their website and search a car model by type, maker or narrow down to specific test results. JNCAP test results also incorporate pedestrian safety.
Australian New car assessment program (ANCAP)
This organization carters for cars released in either New Zealand or Australia. The cars are rated from a rating of 0 to 5. Just like the other websites you can search by car model, maker or type.
Conclusion
Car ratings are vital when you are purchasing a new car. Since you are spending lots of money on the car it is wise to shop widely for a car model that has five-star ratings. The ratings will often be displayed on the window. In this regards, we have government appointed organizations like the NHTSA that conducts comprehensive tests.
Other private organizations also conduct tests and if you can find more than one result the better. The ratings are displayed on the organization's website and you can search by car model, type or maker. If you do not find your model you will have to check the website each month until your car model has been tested.
Having a car with a five-star rating does not mean the car will not crash. The driver expertise plays a major role.