If you have bad credit, it will be difficult for you to get financing for a new car.
Credit rating agencies use a rating based on your repayment history. If you have bad credit, you will find that you are buying a car at higher interest rates. Even though you may have the best intentions to keep your credit high, unfortunate circumstances can lead to bankruptcy or insolvency.
However, your bad credit history should not stop you from buying a new car. We will give you tips on how to get around it, but be prepared to pay higher costs for the car purchase.
Increase your down payment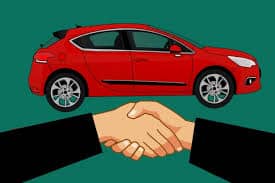 Interest rates and taxes will be higher if you have a bad credit history. If you have a large down payment, these will be reduced. You also get more options when it comes to the type of car. Make sure you check all available car loan rates before settling on one. The fact that you have bad credit does not mean that you should simply settle for just any car loan.
Pay what you can afford
A car loan can be tempting, but you have to consider your utility bills. If you have nothing left after paying the principal and interest on the car, you are more likely to default on an existing loan. Come up with a budget and stick to it. A budget is made up of your monthly income minus your monthly household expenses.
What remains is what you can afford to pay off your car loan. Remember to consider emergencies. You also need to factor the cost of maintaining the car through fuel costs and insurance into your car budget.
Avoid paying for luxuries immediately
It is wonderful to have a car with extras such as leather seats, air conditioning, or state-of-the-art stereo. These extras put an extra burden on your monthly loan repayments. You can go without these extras for now, and add them to your car later.
Read the fine print
Many car buyers with bad credit may be so enthusiastic about a car loan that they do not read the fine lines when getting their car loan approved. You need to know what happens if you are behind schedule and have paid halfway through the car. You should also make sure that the terms agreed orally match the terms on the legal documents.
Be suspicious of car dealers who make a lot of promises, as these may be non-existent on paper. You can be accompanied by your lawyer when signing the contract. Most car scammers are often too enthusiastic to sell you a car. If the conditions are too good to be true, this could be a sign to walk away.
Purpose of owning a car
The type of car you buy depends on the purpose of the car. If you have a large family, you can opt for a station wagon or SUV. If you use the car for everyday commuting and are worried about fuel costs, a two-door sedan or hybrid car might be worth buying.
If you work in the construction industry and need something big to transport tools and raw materials, a pickup truck will work well for you.
Review car prices
You can check the car prices on the website of the various online car sellers. This will help you to explore different models and get one with the best price.
Help from family and friends
If you have bad credit, you can ask family or friends to help you with the downpayment. They can act as guarantors for you, which can lower your interest rate. Loans from family members are low risk, but if you don't pay them, you risk ruining your relationship.
Getting a loan
Carry identification with you when you visit your lender. This includes utility bills, driver's license, and proof of ability to repay the loan. None of these documents will improve your credit score, but they will increase your chances of getting a loan.
You can try your local credit unions. These are non-profit organizations that offer lower interest rates than most financial institutions. You need to be a member and save some money to build credibility. It may take some time for your loan to be approved by a credit union. But you can eventually benefit from low-interest rates on your loan.
Purchase repossessed cars
Banks and other lenders tend to repossess cars. These are often 40% cheaper than conventional new cars. You can find a car in quite a good condition. If you go to a mechanic quickly, few will know that the car was ever repossessed.
Buying directly from a car owner
You may be lucky and find a close friend who wants to sell you his car. Private car owners do not need to know your credit history when they sell you a car. They also allow you to pay in installments. You can also negotiate the price down and get a good deal.
Make sure that you have all the necessary documents when you buy a car from a private dealer. You can check your local daily newspapers for private car sellers.
Dealer financing
Car dealers often offer some form of car financing. However, the rates are higher than those found at traditional banks. Car dealers offer car financing for people with bad credit, but you must read the terms carefully as the risk of defaulting and repossessing the car is higher.
Inspect the car
If you buy a car from a private seller or a car dealer, make sure your mechanic is nearby to inspect the car. You can take your mechanic for test drives to listen to the engine response. Mechanics are very useful if you want to look under the hood. They check the engine, transmission, brake system, exhaust, and electrical components of the car.
Conclusion
It is difficult for someone with bad credit to find financing. However, there are other financing options. You may need to make a large initial deposit to reduce your interest payments. You can first try borrowing money from family and friends. If this does not work, contact your local bank. These are cheaper and offer loans to people with bad credit.
Hello I'm Magnus, the owner and the writer of this website. I have been working with cars since I was 16 and I'm specialized with in-depth Automotive diagnostics. Also been driving drifting for the last 6 years. I'm here to give you answers to all your automotive questions and I hope that you enjoy our content.