The cars become more and more advanced and the automotive market is in big need of good automotive technicians. Especially when the electric and hybrid cars are becoming more popular each day. If you want to become an automotive technician the right time is NOW if you ask me.
Because now it's very easy to get a well-paid job and a chance to be apart in the beginning of the electric car era if you have the interest and you want to learn. I will write this article in 3 stages what requirements you have to become a good technician.
Start in your own garage and go a course or school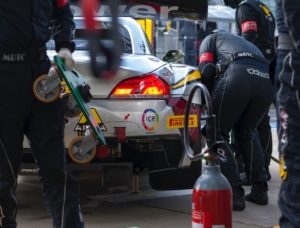 To be an automotive technician you have to be interested in cars. If not, you will not learn and the most technicians started with their own cars at home. If you go a course or go to a school without interest you won't learn the small techniques you need. I started myself in my home garage with a Nissan s13. I began to tune it with failing the most repairs and upgrades. It became very expensive but I learned a lot. Learn the hard way they say. The good thing about to start learning at home is that you can take the time you need to make a good repair. Inspect all parts carefully and try to understand how they work. Learn which tools you need for what job and which tools are the best use.
Try maybe to start to help some friends with easier jobs for a small fee. Even if you are not fully learned don't start to make things for free, then they will expect you to do stuff for free your whole life. Tuning & Racing is a very good way to learn. It could cost a lot but it gives you a lot of knowledge. Maybe your friend is doing any kind of racing and you could help him or her with the car at the events. Its both fun and you'll learn a lot!
When you got a little more knowledge start to make jobs faster and faster without lower the quality of the jobs. Find ways how you could do it faster.
Good jobs to know before you go and ask for a job or get a certification:
1. Brakes
2. Suspension
3. Welding exhaust systems
4. Service oil changes etc
At this point when you feeling you are ready to take one more step, you can choose which way you want to go. Some want to work in a small workshop where the education/certification is not that important. But I would recommend you to try to go higher!
Get a Certificate
Depending a lot on which country you are in, but some sort of certificate I recommend you to get to show up when you are searching for a job.
It will be a lot easier and maybe a requirement if you want to work at a big workshop.
Always good to have things to write on your CV.
Try to get a job at a small workshop
If you want you could try to begin to work in a small workshop to learn the basics as an automotive technician first.
It will probably be a lot easier to get your first technician job there
The negative thing with that is that you probably won't get any education, but it's a good way to learn from the beginning how things work in small workshops also before you go to a bigger workshop.
If you have worked in a small workshop for a while and want to go to a bigger workshop to get more knowledge and education I have to give you a warning: When you are starting a big workshop they probably want you to deliver repairs very fast and with good quality.
Most big brands workshops have low repair times for each job and you have to work fast with a good quality. Sometimes it's not even possible for the most skilled technicians. When you have worked there for a while and feeling that you got a good basic knowledge about cars, you could try to become a specialist in a small area, electrical etc. Now when we are getting electrical cars it could be a good knowledge to give you a good payment.
Try to get a Master technician education from your company, it's not easy but worth it. If you have worked more with fault diagnostics and electrical for a time, you maybe could try to go further if possible in the electric car market or start your own company.
Summary
The automotive market is in big need of technicians. If you have the interest you could be a technician in a short amount of time but remember to be skilled technicians you have to work for some years and do a lot of mistakes. When you got a good education and knowledge in the automotive market it's a good chance to start your own company if you want ( Can be hard times for the small workshops in the future because the big brands are locking their vehicles to their own workshops ).